Webinar: Climate Change Impacts on Fisheries in Lakes Michigan & Huron
Great Lakes fishery managers and stakeholders have little information regarding how climate change could affect the management of recreationally and commercially important fisheries, which have been valued at more than $7 billion annually. Our research has focused on how climate change could influence fish habitat (including water temperature, ice cover, and water levels), phytoplankton production, and ultimately fish production.
Focusing on lakes Michigan and Huron, this webinar will provide information about:
whether we can detect climate signals in long-term data on fisheries and phytoplankton
preliminary climate (e.g., water temperature, ice cover) forecasts for 2043-2065
how future climate could influence growth and consumption of key fish species, such as Chinook salmon, lake trout, yellow perch, and lake whitefish
Bunnell Presentation (PDF download)
Webinar Transcript
David "Bo" Bunnell
Trained as an Aquatic Ecologist, David "Bo" Bunnell is most interested in trophic interactions occurring between fish and their prey, particularly how these interactions are influenced by anthropogenic stressors, such as nonindigenous species and climate change. He is also interested in life history strategies and how these can evolve to influence the population dynamics of managed fish species. Within the USGS Great Lakes Science Center, Bunnell is assigned to the Lake Michigan section, but has had the opportunity to collaborate on research questions across the Great Lakes basin.
Brent Lofgren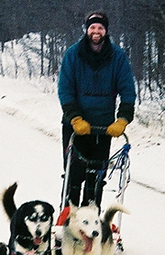 Brent Lofgren is an atmospheric scientist with the National Oceanic and Atmospheric Administration's Great Lakes Environmental Research Laboratory (NOAA/GLERL) in Ann Arbor, MI. His research involves modeling of the climate system of the Great Lakes basin, focusing on the atmosphere, but also illuminating interactions in terms of heat and water transfer with the land and lake surfaces in the region. Much of it concentrates on the impact of climate change on the water balance of the region. He has also done work on climate in East Africa and on a global basis. His research is published in many journals. He holds degrees in physics and mathematics from Augsburg College and in atmospheric and oceanic sciences from Princeton University.
Paris Collingsworth
Paris Collingsworth received his PhD in aquatic ecology from the Ohio State University. From there, he accepted a post-doctoral position at the Cooperative Institute for Limnology and Ecosystems Research (CILER) at the University of Michigan. It was during this time that he worked with Dr. Bunnell on the climate change project that is the subject of the present seminar. Dr. Collingsworth currently works for IL-IN Sea Grant, Purdue Extension as a Great Lakes Ecosystem Specialist and serves as a liaison to the EPA Great Lakes National Program Office in Chicago, IL.
Michael Murray
Michael is Staff Scientist with National Wildlife Federation Great Lakes office and has over two decades experience working on Great Lakes science and science-policy issues, including involving toxic chemicals, climate change mitigation and adaptation, aquatic invasive species, and indicators and restoration prioritization in the Great Lakes. He has M.S. and Ph.D. degrees in Water Chemistry from the University of Wisconsin-Madison, and has served on over two dozen technical and advisory committees.